Hard to believe 2021 is coming to an end. When I looked back at this year's posts, I was surprised that I haven't talked about many of my favorite reads. I thought it time I made up for that with a list of some of my favorites from 2021.
January was not a good month and Jenn McKinlay provided the perfect escape, filled with warmth and humor, in PARIS IS ALWAYS A GOOD IDEA.

When her widowed father announces he is remarrying, Chelsea Martin's reaction forces her to realize she's lost her joy for life. While I'm not sure her reaction was off the mark, I was all for her solution—recreate a trip she took many years ago to Ireland, France, and Italy. This was the last time she recalled being truly happy. In each country was a man who held a piece of her heart. Maybe one of them was the key to finding her joy again. Her quest is complicated by the unexpected arrival on the scene of her work rival and nemesis, Jason Knightly. The story of Chelsea revisiting her past with an eye to her future was pure delight and full of laughs.


THE WINDSOR KNOT by S J Bennett This mystery not only takes place at Windsor Castle, but Queen Elizabeth II actually orchestrates the investigation of a young Russian pianist who met with a suspicious death in one of the castle bedrooms during a "dine and sleep." The actual investigation is carried out by Assistant Private Secretary, Rozie Oshodi, aided by subtle suggestions from the queen. Rozie is clever and resourceful and the story is filled with little details of royal life. I loved it and can't wait for the next.

I devoured Rhys Bowen's stand-alone novel, THE VENICE SKETCHBOOK in one weekend. The story is told in dual timelines. In 1938 art teacher Juliet (Lettie) Browning has brought her class to Venice for a study trip. Juliet had visited the city ten years earlier and hopes to reconnect with the man she left behind. At the turn of the 21st century Caroline's ex-husband has left her in England for a more exciting life in New York City and she's (rightfully) concerned that he plans to keep their son in his custody. She receives a bequest from her late great aunt Lettie—a sketchbook, three keys, and the request to scatter her ashes in Venice. Caroline travels to Venice with the sketchbook and the keys, clues that when deciphered, reveal a new chapter in Letty's life. Juliet and Caroline's story ultimately weave together to form a satisfying though bittersweet conclusion.


A ROGUE'S COMPANY by Allison Montclair is the third book in the Sparks and Bainbridge mystery series. Set in London after WWII, Iris Sparks and Gwendolyn Bainbridge, two opposites who work perfectly together. Both women are recovering from the effects of the war. Gwen lost her husband, the love of her life, and now has a precarious relationship with her in-laws with whom she lives along with her young son. Iris did things during the war that she'd rather not talk abou.t. Together have formed a marriage bureau, The Right Sort. As in the first two books, a client sets in motion their next adventure/mystery. This time the crime strikes at the center of Gwen's family and she finds that she is stronger than she, or the reader, thought. In order to help her partner, Iris has to call in a favor which gives the reader a glimpse into her past. The mystery is twisty but the characters are what make me devour each book in this series.

DENIED by Mary Keliikoa. This second book in the PI Kelly Pruett series is just as loaded with twists, turns, secrets, and lies as the first. Kelly thinks she's taken on a simple missing person's case for an old friend, but it quickly becomes clear that nothing is straightforward about this case or the victim. Though the plot is engrossing and suspenseful, the best part is Kelly Pruett herself, so well-developed she steps right off the page, full of tenacious stubbornness and humanity. I can't wait for her next case.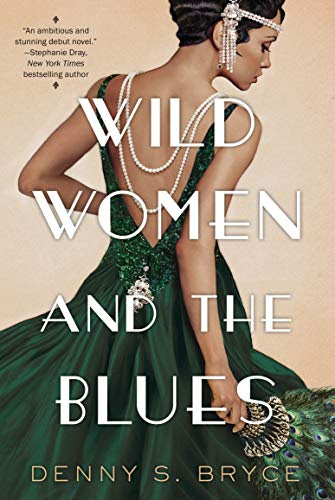 How many ways did I love WILD WOMEN AND THE BLUES by Denny S. Bryce? The dual time line was handled deftly. Sawyer in 2015 is trying to authenticate a piece of film by interviewing centenarian Miss Honoree about her life in the 1920s. The history was fascinating—black life in 1920s Chicago, Bronzeville, Jazz, poverty, riches, dreams, and ambitions. The mystery reveals itself slowly and there's a bit of romance, which I loved. The story-telling was enticing. I was involved before I even knew I was interested. It was hard to put down and though the end was satisfying, I hated to say goodbye to the characters.


MURDER AT MALLOWAN HALL by Colleen Cambridge takes the reader to the English countryside and the home of famous author, Agatha Christie, for a wonderful mystery. But when a dead body is found in the library during a house party, the sleuth is her housekeeper, Phyllida Bright. Phillida is a former army nurse, confident, intelligent, and an admirer of Christie's character, Hercule Poirot, whom she styles herself after. It's amazing to watch her manage the servants, the guests, and the police while she uses her little grey cells to analyze the clues that lead to the killer, all while running the household. This is a fabulous start to a new series!

I just finished DOWN A DARK RIVER by Karen Odden. This is the first book in a new series set in London in 1878 and featuring Inspector Michael Corravan. Corravan is working on a missing woman case when he's called in on another case involving a dead woman found in a small boat on the Thames. Not the same woman, but as the inspector works the case it slowly becomes clear that the murders of the women are linked to an act from the past. Corravan is a fully fleshed out character, relatable and flawed. The mystery is intricately woven and London, both the posh neighborhoods and the slums, simply jump off the page. A beautifully written and satisfying book!
What have you been reading this year? Any recommendations?
Wishing all of you happy holidays and lots of books in the coming year!